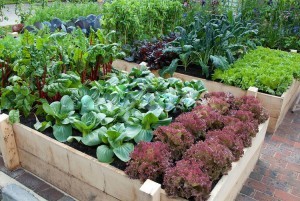 Preparing a raised bed garden for spring planting is very important to getting the highest quality plants and vegetables. A raised bed garden needs to be worked like other gardens to make sure that the soil is ready for planting. This also means that the right mulch should be used to keep unwanted weeds from taking over a raised bed garden. There is a simple checklist that should be followed when preparing a garden for the spring to keep everything in order. Before spring planting takes place it is important to make sure everything is ready to go to avoid fixing anything during the growing season.
The first thing that should be looked at when preparing a raised bed garden is the bed itself. Beds should be inspected to see if any repairs are necessary. Winter months and water can take a heavy toll on raised beds and they should be checked before planting. The most common problems with the beds are in the corners. This can be fixed by using screws to get the corners connected tightly again. Bowing of the sides is another common problem experienced with raised bed gardens. Most bowing of the sides can be taken care of with the addition of a stake on the outside of the bed to screw in the side.
The next thing gardeners and planters should do with raised beds is to pull or block roots from other plants. Weeds can take over a garden so it is important to get the entire plant out of the ground to prevent it from growing back. Roots from nearby trees can also dig their way into a raised garden bed so some digging around can help people find any tree roots taking up room in the garden. After all of the roots are taken care of, it is time to top off and till or fluff the soil. This makes sure that new plants have enough soil to grow in.
People who are using raised beds to grow crops should put stakes and trellises in for tall crops because they help support the vegetables. The soil should then be covered with mulch and fertilizers. This helps the soil keep in warmth and gets the soil ready for planting. Perennials should be divided and thoroughly mulched before the spring planting begins. After the garden is ready, wait until warm weather arrives to plant.